One Time Disney Magic Box
The Most Magical Disney Gift Box, Guaranteed!
Our One Time Disney Magic Box is a fully customized Disney gift box that includes a magical variety of Disney products specifically chosen to match recipient preferences, including authentic original Disney Parks treasures. Not only is our One Time Disney Magic Box guaranteed to provide 120%+ in merchandise retail value, but unlike any other Disney box on the market, also includes our money back satisfaction guarantee!
Our One Time Disney Magic Box makes the perfect gift for Disney fans of all ages, or just an amazing touch of Disney Magic whenever you may need it (this product ships within approximately 3-4 weeks of your preferences being submitted)!
Need more Disney Magic? Check out our monthly Disney Magic Box Subscription.
Still not sure? See verified customer reviews of this product!
**Important: This product ships during the first and last week of each month.
Features:
• Custom curated for up to 2 recipients based on 400+ account preference options (2nd recipient will receive 1 item)
• Exclusive Wishlist items available for request
• Money back satisfaction guarantee
• Guaranteed 100%+ in merchandise value
• Magical variety of Disney products including Authentic Disney Parks merchandise
• Responsive customer support
• No cheap filler items
• Enjoy the full MAYD experience in our Magic At Your Door Facebook Group
Shipping: Flat rate of $14.99 to the contiguous United States; Calculated shipping to other US destinations; No international shipping.
Great items!!
This was my first box I received from magic at your door and I was super happy!! I ordered the the one time box to try it out before a subscription and signed up right after this box! I did receive a pair of ears I already have but not their fault. One shirt wasn't my exact style but I just changed my preferences to better explain what I enjoy. Everything else I was so happy with! The items stuck to my preference perfectly, even received a 50th anniversary limited edition pin, which was a great addition. But my all time favorite was the sorcerer Mickey plush. Would highly recommend!
Made me Smile
I loved the box. Each piece made me smile. They were all from my favorite movies and characters.
Excellent box with excellent value
There are a plethora of Disney boxes out there but magic at your door tops them all. The value in the box above the dollar amount paid as always fantastic and they definitely listen and pay attention to preferences!
So great!!
I had missed the monthly deadline for the $125 subscription box so upgraded to this one time $200 box and it did not disappoint!! So good! The Jim Shore is beautiful (and huge!) and a great piece to add to my collection. I had secretly been wanting those ears since last year. And I LOVE the ornaments! I will display them all year round. "Jim Shore" pieces were the only things on my wishlist, but every item is loved and according to my preferences. Thank you!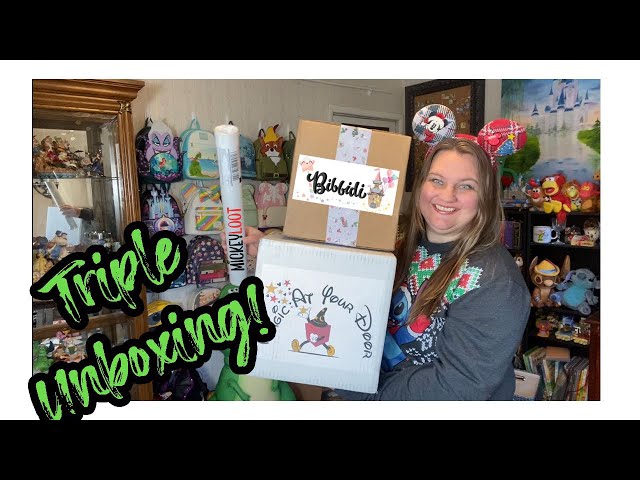 Fantastic box!
I ordered a one time box to check out how they compared to other subscription services I participate in. This box was amazing! I got several items I had placed on my wishlist. I also got several surprise items. All were things I love, and it was evident someone took the time to read my preferences. Great value as well. This one time box has now made me a monthly subscriber. I only wish I had taken a picture to share. Thanks so much!
---
More from this collection: